You all know I'm in a 12 step program for my addiction to Etsy, right?
Thank Yahweh that no such thing exists
. And thank goodness I am still employed and can fund some of my recent sprees. First stop for any gift is always Etsy. I've posted about a handful of my purchases:
notecards
for a good friend,
wool dryer balls
for quite a few friends and family, a lovely grandmother
necklace
for Mahna after she left her post as summer caretaker this past year, and even Felix's iron on
Superman patch
for this year's Halloween costume. And that's just a few of the things! (I do have to give one very biased shout out to my friend Pam at
paperdollsilhouettes who has made 2 amazing silhouettes of our boys.)
I thought I would share the latest batch of Etsy love.
Disclosure: I have not received any compensation or free products in relation to the products below. I maintain no relationship with the vendors outside of being their satisfied customer; but I do recommend you support their stores or others on Etsy.
I really love the mother's/grandmother's necklace trend going on right now. I was drawn to the one I got my mother (linked above) and think once we are 100% sure that our family is done expanding, will invest in one myself. I knew I needed to get one for my mother-in-law for Christmas. I spent a good afternoon sifting through different options on Etsy and was really feeling the "nest" look. I found the perfect Sweet Bird Nest from the
janiecox
store. And what I thought was neat was that you could opt for either blue or pink colored "pearls" in addition to the traditional cream. My mother-in-law has 3 grandchildren: 2 grandsons and a granddaughter (very blurry picture of the 3 below behind the necklace.) I thought 2 blue and 1 pink pearl was a little too Easter bunny, so we opted for 2 regular pearls and one pink pearl. I think it turned out great!
With some of my own birthday money, I decided that I wanted a new custom calligraphy address stamp. Eric and I purchased a roll of 85 thousand cheap-o stickers when we first moved into our current house. The printing was awful and they look like garbage. But it's hard to convince yourself of a custom return address stamp being a necessity when you have a roll of stickers to last you until the next century in addition to all of the free ones that get sent to us from the Sierra club, ASPCA, etc, asking us for money.
(Is it bad we still use them even if we don't donate? And when is NPR or the High Museum going to start with address labels? They might have avoided this whole debacle in the first place! Yesterday I got a set along with a nickle pasted to the donation page. I had Miles peel it off and put it in his giraffe bank. Bad karma?)
One of my besties over at
Anthologie
mentioned she ordered a stamp at a seller on Etsy,
Note Trunk
, and I fell in love with about a dozen of the options. Eric and I narrowed it down to 5--some he liked, some I liked, and a few we both were just "warm" about. Here's where I demonstrate how I am flawed and sometimes selfish--my money, my choice. I opted for the stamp that he liked the least, and I liked the best. This is the example from her store--clearly not our name or address!). Eric hated the bird detail, said it would be "tired" after the whole "bird" craze dies down, and I think felt the calligraphy was too feminine. My thoughts? That's exactly what I want. :)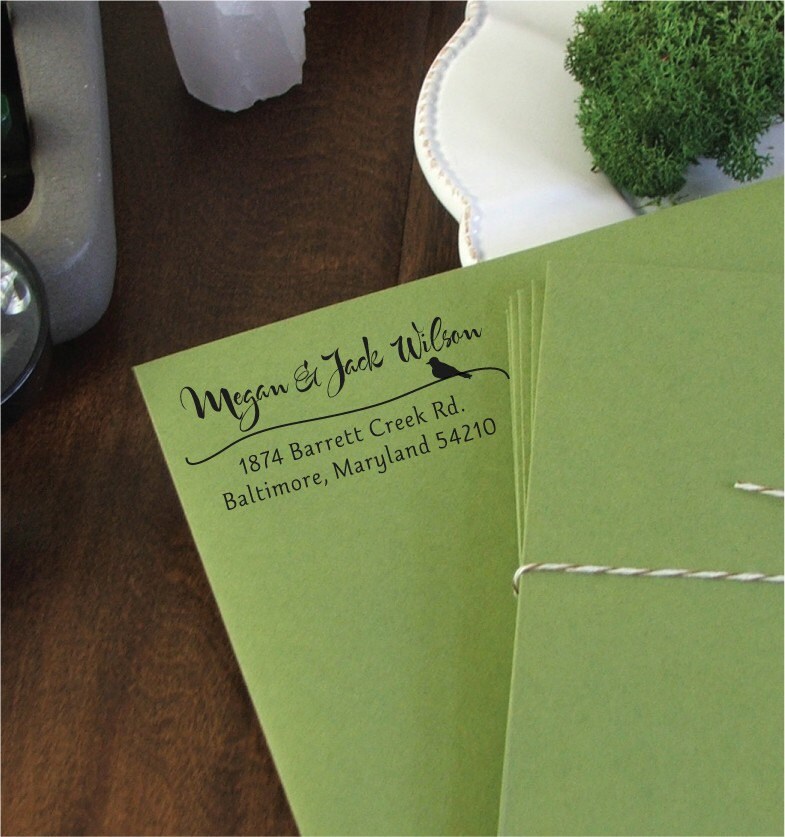 Finally, I've been dreaming about getting my boys customized stationary for a long time. The trouble is that just a set of 10 cards can set you back a month's salary. I don't have a lick of graphic design ability to do my own, so I've been waffling around trying to find a solution. In the meantime, I've been strategically cutting up the boys' school artwork (not the ones that I want to save for the future, but the ones that are really solid abstract art!), and use them as thank you notes. I think people are getting tired of my boys' Jackson Pollack imitations. I stumbled upon
Acacia's
shop and noticed that she makes custom notepads on eco-responsible paper! 40 pages and you can customize with name, color and she has a handful of cute designs. I wouldn't say the offering of images is enormous, but the truth is, of all options I saw, I fell in love with her images. Simple. Classy. And not too "juvenile." The pads are small--perfect for thank you notes. And now I can use the artwork as envelopes!
I just got the boys' notepads and really love them. I also got one for a not so little girl's birthday coming up in a few months, so couldn't show the name, but you can see the flower design below.
I'm not sure how I will survive if our family's income reduces someday
if
when I reduce my professional work load to accommodate the boys' changing school schedules. At least Pinterest is free...but this Etsy thing could get ridiculous!