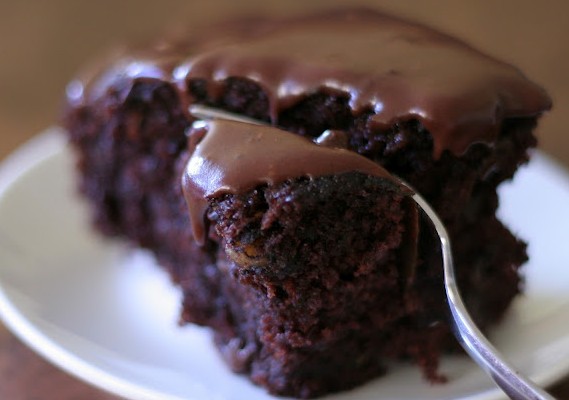 Warning! Not my photo! But it totally looks like this. Thanks to Plump Me Up for the visual.
Chocolate Zucchini Cake
I mean, I fully expected a fail with this one. I pulled it out of the oven, slapped on the ganache, and hoped it was cooked in the middle as it rattled in the trunk of the car between a toddler bike helmet and a stack of Trader Joe's grocery bags.
It was a success.
And the verdict on day two? Even better. Who needs transfat when apparently zucchini can keep things moist for days?
This is not helping my half marathon body plan. Ah well. Taking one for team chocolate.
My adapted recipe is courtesy of
The Repressed Pastry Chef
. (Go to the link to see another picture. Your hips are screaming for mercy, huh.)
MOM-MAKE THIS. YOU WILL LOVE IT. (too bossy?)
I used all organic ingredients, save the baking powder/soda, salt and cocoa powder, because organic = healthy. (Lies we tell ourselves.)
Ingredients
… for the cake
1/2 cup (1 stick) butter (use the real thing)
1/2 cup canola oil
1 1/4 cups granulated sugar (original recipe called for more, but in all honesty, I couldn't find the 3/4 cup measure and was too lazy to dole out 3 scoops of the 1/4 cup)
1 capful of vanilla
1 teaspoon baking soda
1/2 teaspoon baking powder
dash of salt
2 large eggs
1 individual container (prob 1/2 cup?) of 0% fat plain Greek yogurt
2 cups all purpose flour
1/2 cup whole wheat flour
3/4 cup Dutch-process cocoa
2 cups shredded zucchini (I used two enormous zucchini)
1/2 cup (3 ounces) chocolate chips (optional, but c'mon...I used organic dark ones)
… for the ganache
6 oz heavy cream (Yes, sorry folks, gotta use the real stuff)
9 oz dark chocolate
Directions
Preheat the oven to 350°F. Lightly coat a 9″ x 13″ pan with baking spray
In a large mixing bowl, cream together the butter, oil, sugar, vanilla, baking soda, baking powder, and salt.
Beat in the eggs.
Alternate mixing in Greek yogurt and flour.
Add the cocoa and mix until smooth.
Fold in the zucchini and chocolate chips.
Pour into pan.
Bake for 35 – 45 min or until a tester inserted in the center comes out clean.
Make the ganache: heat cream in saucepan over medium until simmering.
Remove from hit and pour over the chocolate bits.
Wait 5 minutes and then stir to combine.
You should probably remove the cake, cool, and then pour ganache on top. But I took it out of the oven, poured the ganache on the hot cake, and put it in my trunk.
It's not too sweet, but tastes sinful. I think I want this for my birthday cake from now on.
Oh, and I brought it into work today, put it on the counter with the note "Surprise Chocolate Cake!" I see there is 1 piece left. I guess they liked it...hope no one is allergic to zucchini.
If you try it, let me know! (obvi so I can come over and eat some.)