How did I ever survive without Pinterest, Etsy and a smart phone? And maternity leave has been made far better (and more expensive) with my smartphone. The Kindle app is a godsend during marathon nursing sessions. The poor Mac is collecting dust.
I've always dreamed of starting an Etsy store for my yet to be developed crafty skill, but until then, I will just keep others in business. For Christmas I got Eric a key chain with pennies of significant years, and then had them stamped with the corresponding life event:
1981: EST. (born)
2006: I do (married)
2008: Miles (born)
2010: Felix (born)
While I got my keychain at
Simply Sweet Studio
on Etsy, a friend from my 2010 due date online club has an Etsy shop, and she liked this idea so much, she started doing it herself! So if interested, check her out, too:
Simply Stacy Designs
.
Well, we knew that there was going to be a 2013 penny added, but didn't know the name. After Gus's birth, I decided to complete the key chain and get Eric a "I didn't push, but I threw back the leg of my wife who pushed present". You mean you haven't heard of that? It's almost as absurd as an actual "push present." (I think Zales just created the idea that you need to get your partner overly priced jewelry because a healthy baby isn't enough of a gift.) I know. I'm all Judgey McJudgerson. And the truth is, Eric and I purchase a Charley Harper print after each of our child's birth...so I guess it's akin to a push present? Judgey McJudgerson...meet Herr Hypocrite. (Snap! That's masculine. Whateves. I may be German, but never took it. Yo lo siento.) For August, we selected the print called "Generation Gap."
So now we have quite the Harper collection and are going to work toward getting it all insured. I've never collected anything outside of grey hairs and dust bunnies, and never insured anything outside of my wedding ring so it all feels rather "adult." But I guess so does pushing 3 kids out of your hoo-ha in less than 5 years. Adult...or maybe sadistic. Jury is still out.
Etsy has also come through for me recently with the purchase of Gus's wedding attire for the upcoming nuptials of family friends. I mean...stop the cuteness! Okay, don't. And all the boys in the family will be wearing bow ties. I may opt for one too as I have yet to find a dress in the depths of my closet that is nursing friendly
and
can zip up the junk in the hatchback. Sure, that doesn't rhyme, but I'm feeling the junk fits better in a hatchback than a tiny trunk. This little number is from
iHearTees
. The tie is removable, and I got a matching Nuk clip because I've turned Gus into a paci addict. Yup. I am a paci pusher. 3rd child, folks. Child gotta learn to self soothe with a prop so I can make sure the older two aren't into the tomato knife or helping themselves to races in the street (BOTH of which have happened bee tee dubs).
While Miles's and Felix's bow ties are from Old Navy, I got Eric a bow tie from Etsy as well. Not that he needs another one for his collection, but everyone loves new duds for a wedding! This was from
Port Royal Outfitters
.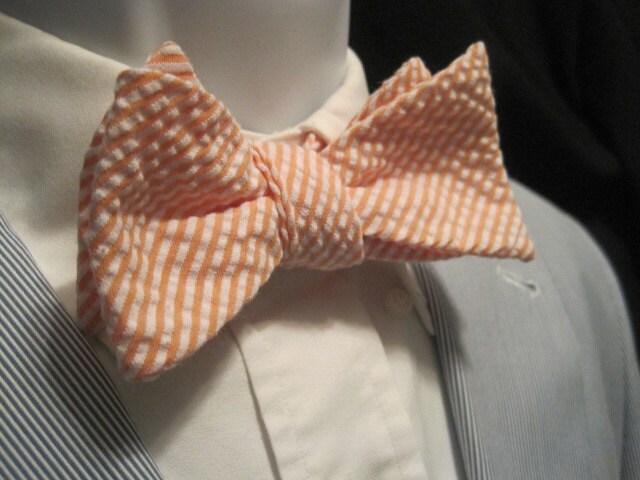 I am excited to see us all as a package/collection. Stay tuned! All 2.5 of you reading. (Hi Mom!)
Etsy has also allowed me not to mourn the loss of the ability to "ooo" and "ahh" over baby/kid clothes. Over the past years, I have turned the dismay at ugly boy clothes into an exciting hunt for cute ones. Because while it takes effort to dress a little girl in ugly clothes (like the loch ness, jury is still out if they exist), I feel it always generates a little extra appreciation and smile when you see a well dressed little boy. And as someone who has purchased 90% of her boys' clothes from consignment and Goodwill, I can tell you that you can do it on a dime, too! But Etsy has also come through for me and others.
Case in point: this little diddy was from Nuncle and AunT for Felix. And of course, Gus welcomes the hand-me-down. And once his chunk overflows, this will be set aside in the bin in the attic full of cute boy clothes that used to say "future children" that now says "future nephews and friends' children." Okay, it doesn't say either; it says "preemie-3mo" but it implies that. And whoever that boy is, is gonna get one heck of a hand-me-down wardrobe his entire life if I do say so myself.
This is my Etsy/Goodwill steal of the century. I got for $1, and it is a cute organic onesie with a felt robot sewn on. Okay, so I don't have confirmation it's from Etsy, but it just screams it, no? Or maybe that is Gus screaming "ROBOT!" Either way, "cute is as cute does."
I guess it doesn't matter what this kid wears. How can you focus on it with
this
face?
If I wasn't only 6 weeks out, my uterus might have just sighed and opened for vacancy.